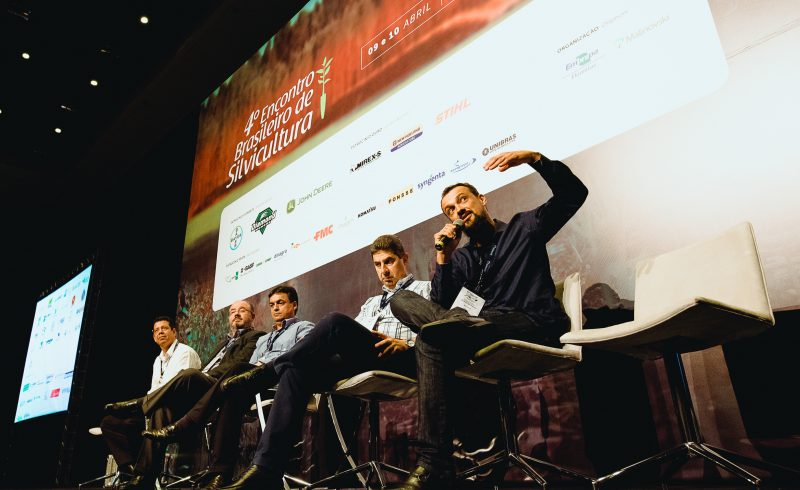 The 4th Brazilian Silviculture Meeting brought together highly specialized professionals for discussions on themes such as the use of geotechnologies in silviculture planning and waste management for gains in silviculture operations.
Conceived to broaden the scope of the Brazilian Forestry Week, the Brazilian Silviculture Meeting – organized by Malinovski and Embrapa Florestas – is the country's main stage of silviculture discussions. In its fourth edition, which took place concomitantly with the Wood Harvesting and Transportation Seminar, on April 9 and 10th, trends and solutions for the silviculture sector were presented and discussed by highly qualified speakers, promoting the exchange of technical and scientific knowledge between the professionals and institutions working in forestry today.
Overall, throughout the event, the speakers concluded that discussing the state of the art in silviculture is essential for the Brazilian cultivated forest market to develop its silvicultural activities, remaining a key world player in this marketplace.
At the event, the 400 attendees, representing the country's main forestry companies and forest research institutions, listened to lectures divided into four main themes: Mechanization and Automation in Silviculture; Risks and Forest Productivity; New Opportunities and Markets; and the Timber Production Chain.
Mechanization and Automation in Silviculture
The event's keynote lecture by Ricardo Malinovski (Malinovski's Marketing & Events Director) brought an analysis of current trends for mechanized silviculture in Brazil. The speaker presented a study conducted with the largest forestry companies and silviculture machinery and equipment manufacturers, and outlined the main technologies currently used in mechanized silviculture in Brazil. He also discussed the future for this sector, addressing the issues hindering the market's growth. "The purpose of achieving significant change in silviculture must come from the whole sector. That's the only way we'll be able to evolve. We need to find ways to reduce the number of operations in silviculture, as well as further professional development, respect patents and intellectual property and increase the planted area," Malinovski concluded.
Next, Rogério Salamuni (Manager of Harvest and Maintenance at Klabin) spoke about "Technologies for Mechanization in Uneven Terrain". In his lecture, Salamuni described the current technologies used in and results achieved by Klabin, such as the Bracke P12 mechanized planting and land clearing equipment, as well as herbicide application with drones (a global trend for this market) or helicopters.
"For a long time, gains in forest productivity had genetic improvement as its key driving force. Technological development, soil management and fertilizer projects have greatly enhanced productivity. Today, Brazil is renowned worldwide for the excellence of its forests," he said.
"Geotechnologies for Planning and Control in Silviculture" was the theme explored by Ariel Smoliar, Co-Founder and CEO of PlanetWatchers, and John Yanez, Forestry consultant of PlanetWatchers. The speakers explained that, through the use of high quality imagery, large-scale area monitoring is already possible. Nevertheless, Yanez reminded the attendees that imagery and information are of no use without  thorough analysis of the data gathered. "Technology is necessary to evaluate the information. That's the only way to achieve quicker decision making," Yanez summarized.
Lúcio de Castro Jorge, researcher at Embrapa Instrumentação, debated the "Use of UAVs in Forestry Companies". "Cartography, which was a stagnated field, has evolved significantly due to advancements in drone technology. These tools have proved effective and essential in several fields, including silviculture," the speaker explained.
In his lecture Luis Sabbado (Forest GIS Manager at Fibria) outlined the three main pillars behind the companies development criteria: asset management, input management and behavioral management. "We have great experience with land management, which is why we're more developed in that field", he said. According to Sabbado, Fibria is working on advancing machinery, vehicle, input and workforce management, as well as other areas. "We need to develop new technologies and increase productivity and information processing speed," Sabbado proposed.
Risks and forest productivity
The event's second lecture cycle dealt with relevant themes related to decision-making in silviculture. The first speaker, Helton M. Lourenço (Specialist in Soils, Management and Ecophysiology at Veracel), outlined the company's case study in "Technological Advancementes in "Technological Advancements in Fertilizer Formulas for Forestry", and also showed the concrete results Veracel obtained.
"Silvicultural and Ecosystem Macro and Microplanning in River Basins" was the topic explored by José Leonardo Gonçalves, Professor of the Forestry Department at ESALQ / USP. Challenges listed by the researcher include unfavourable economic scenarios, increased service and asset costs, decreased availability and quality of the workforce and greater climate and phytosanitary insecurity.
Hugo Mastropierro, Montes del Plata's Assistant Manager of Silviculture, offered some thoughts on "Water, Soil and Micromanagement in Silviculture", highlighting the importance of mechanized silviculture in these activities, which optimizes gains and reduces environmental impacts.
Leonardo R. Barbosa, Embrapa Florestas senior researcher, discussed the future of cultivated forests in terms of the main exotic pests in eucalyptus forests, as well as new threats. "Establishing and maintaining health in eucalyptus forests requires enhancement programs focused on the selection of pest-resistant/tolerant genotypes, reinforced quarantine and biosafety measures, specific monitoring practices for eucalyptus pests, better public understanding of the nature of pests, and appropriate political structures," Barbosa said.
Closing off the first day's activities, Caio Antonio Carbonari, professor at FCA/UNES and CEO of the Foundation of Agricultural and Forestry Studies and Research, debated "Weed Resistance to Herbicides: forestry landscape and challenges".
"We've been observing the first impact of weed resistance in the forestry sector. There's a need for preventive action, diversification of control methods and of the herbicides themselves. We must explore all available tools," he advised.
New opportunities and markets
The goal of the third main theme was to bring the discussion to the global stage, looking at the future. "Silviculture, Productivity and Crop-Livestock-Forest Integration" was the guiding theme for the three first lectures, which provided a concrete overview of emerging markets.
In this context, Fausto Takizawa, secretary-general of Arefloresta (Mato Grosso Forestry Companies Association), explored the teak markets. "Asia is the world's biggest producer and consumer of cultivated teak timber, but it's a 60 year cycle. Brazil has been gaining importance due to its abundance of land and several investment funds. All the technological know-how for eucalyptus production is being adapted and implemented for teak. Challenges for future growth include high implementation/maintenance costs, long production cycle (20 to 25 years), logistic and bureaucratic inefficiency in production flow, and the need for developing innovation and technologies for teak timber production," Takizawa explained.
Ricardo Vilela, president of ProCedro (Association of Brazilian Australian Cedar Producers), analysed the markets for Australian cedar. "In the past decade many investments were lost and people grew frustrated with cedar. We placed 90% of our financial and intellectual efforts in research. We invested in genetic enhancement and management. Since 2014, we've started planting on a larger scale, in a new reality. Sawn timber from native forests is decreasing at a rate of 12% a year; high value real estate, high quality floors, structural timber materials such as glulam beams, and better structured industries look for timber supplies with higher quality and standardization for a more economic and efficient production. There's ample opportunity if the production chain is structured," he pondered.
Patrícia Fonseca, executive director of ABPMA (Brazilian Association of African Mahogany Producers), said: "Difficulties and uncertainties in the African mahogany market include spacing issues, genetic materials, irrigation, timber quality, soil and climate variations, financing and processing. However, recently we've had the best news in years: Tramontina, present in over 50 countries with roughly 18.000 items, has signalled it will use African mahogany timber in its products."
The speaker also identified CLFI systems as a viable alternative for land use in the African mahogany market in Brazil.
Finally, Maria José Zakia, member of the IPEF technical team and guest professor at UNESP, spoke to the attendees about opportunities for silviculture in the new Brazilian forest legislation,
"There's great opportunities ahead, but they require conceptual changes and changes in the way we act. We are 'condemned' to change (to reinvent ourselves). Otherwise, we'll miss the greatest opportunity for the reconciliation of production and conservation. The law can be seen as just a limiting factor, but it can also be seen as a qualifying factor, as it should be. I believe we're fully capable of practicing a new silviculture," she concluded.