Malinovski – 10 years
Far Beyond The Forest
Malinovski is the company that always goes beyond, connecting the forestry sector, expanding businesses, innovating and driving positive experiences. With over a decade of experience delivering market intelligence, developing ideas and technologies and strengthening the forestry and timber markets throughout the world, we have the greatest connection and engagement power in the country's forestry sector.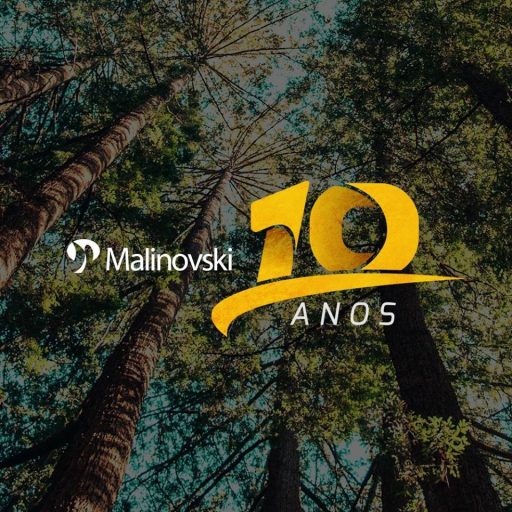 We're a reference in two fields of work: Operational Intelligence and Assertive Connections in the forestry sector.
In our Operational Intelligence front, we work intensely in Forestry Operations Consultancy, providing analyses and identifying opportunities for implementing improvements for increased profitability of forest projects. Our Forest Assets Management service defines strategies for the best management model until its complete structuring and operationalization. In our Market Intelligence front, we work with a solid foundation of data, developing competitiveness studies to help companies with market placement and in searching for new opportunities and improvements.
In the Assertive Connections front, Malinovski works intensely in organizing trade fairs and technical events. We are the designers and organizers of the sector's biggest and best events, known worldwide and with great global impact. Moreover, our technical business trips take our clients to unique experiences. We visit the best global events and international companies, providing participants with broader knowledge and exploring what's new and cutting-edge in forestry today.
We are also responsible for the first fully digital bilingual forestry magazine in the country. The B.Forest Magazine is developed by team of forestry professionals for professional foresters, always relying on updated and relevant information and reports.
And for those looking for updated technical knowledge, the Malinovski training courses are market pioneers in preparing the companies and professionals of the future.
It was the combination of technical knowledge from two generations that gave rise to Malinovski. After decades of work and study on the main forestry education centers in the world, father and son – Jorge and Rafael Malinovski – bet on the creation of an innovative forestry consulting firm, focusing on the market and on the excellence of forest operations.
A lot has changed from 2008 to now. The company has grown and, today, besides the consulting service, Malinovski specializes in training, media and events in the forestry industry. All activities are carried out combining the support of a team with solid technical and practical experience with constant search for excellence in its services.
The consulting includes strategic planning in the implementation and rationalization of operational systems linked to forest roads, harvesting, transport, handling in timber yards, biomass processing, implementation and maintenance of forest stands and training of personnel.
In an innovative way, since 2011 the company has offered training for professionals in the forest sector, becoming a reference in this segment. The goal is to bring technical development to professionals, thus meeting important market demands. To date, more than 500 participants from all over Brazil and some Latin American countries have already attended the courses offered.
For over 40 years, the Malinovski team has also been working in the organization of trade fairs and technical events on planted forests' harvesting, transport and forestry. Currently, it is a world reference in the organization of Expoforest – Brazilian Foresry Fair, being an official member of FDF (Forestry Demo Fairs).
As of 2008, Malinovski has also begun to pass on technical information to industry professionals through the Wood Harvesting Portal and a monthly technical newsletter. At the same time, the company coordinates the Woodharvesting Channel which has the largest collection of forest machinery videos currently on YouTube.
---
OUR TEAM: