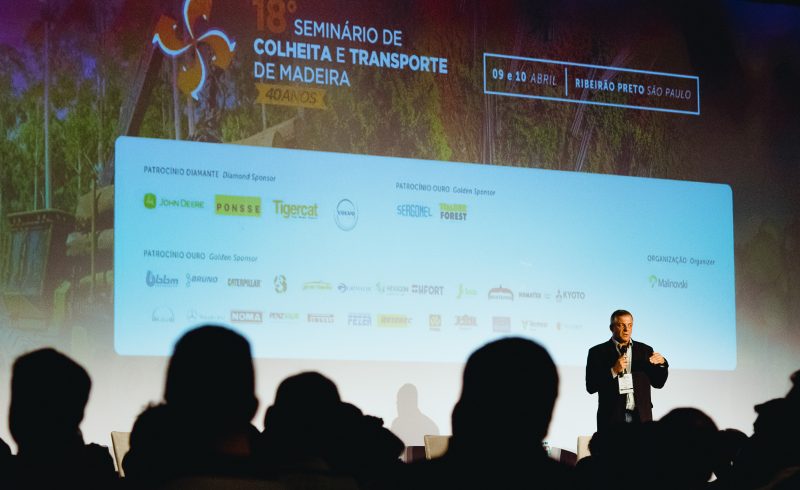 The 18th Wood Harvesting and Transportation Seminar, one of the Brazilian forestry sector's most traditional events, discussed the current status of timber harvesting and the main tendencies for the future of this market.
With a history going back 40 years and 18 editions, the Update Seminar on Timber Harvesting and Forest Transportation Systems is the Brazilian cultivated forest sector most traditional technical event. Throughout its history, the event has been growing and gaining more and more relevance in the national and international sphere as one of the main gatherings for discussing the trends, news and technologies for timber harvesting and transportation.
With renowned Brazilian and foreign speakers, the event's 18th edition – now simply called Wood Harvesting and Transportation Seminar – received around 500 professionals at the RibeirãoShopping Event Center, in Ribeirão Preto, Brazil, where they attended lectures on four main themes: Process Management; Logistics; New Technologies; and the Timber Production Chain. Read on below for the main trends for harvesting and transportation discussed at the Seminar.
Process Management
The Seminar's first speaker, Germano Aguiar (forestry director at Eldorado Brasil), kicked off the technical events' discussions by talking about "Harvest System Diversification and its Interrelations with the Productive Process". Aguiar spoke about the timber harvesting systems (Cut-to-Length, Full Tree, Tree Length and Whole Tree) and examined, in detail, the company's Evolution Project, which searched for harvest systems and equipment alternatives that could result in 20% cost reduction. The main harvest machinery manufacturers were involved in the project.
According to Aguiar, felling with wheel harvesters followed by track harvesters presented the best results, while there are more possibilities for gains in productivity in timber extraction with higher capacity equipment (forwarder, truck, cart). The highest possibility of expenditure reduction is found in forestry trucks, but there's a need for validating the equipment's life span and maintenance costs. As a result of Project Evolution, in 2018, 25% of harvesting at Eldorado will use the track harvester + timber truck system.
The second speaker was John Garland, Professor Emeritus at Oregon State University, who talked about the most pressing current discussions on "Operational Safety in Steep Slopes". The researchers emphasized the rapid expansion of tethering systems (such as forestry winches) for timber harvesting in the USA, which contributed greatly to lower and less serious accident rates in Oregon. According to Garland, the researchers are working with four goals in mind: to develop new mechanized harvest systems with the help of the industry; to analyse the practical and physiological response of the operators during work; to develop guidelines and criteria for the design of new harvest systems; and to educate professionals working in this field.
"Our challenge is that new systems always bring new questions: Are they safer? Do they bring new risks to security? Are they technologically and economically feasible? What are the requirements for training? Are the systems environmentally acceptable?" asked the speaker.
The next lecturer was Daniel Pessoa, Business Process Technology Specialist at Duratex, who explained the "Use of Mobility in Mechanic Maintenance Management". Pessoa highlighted the latest technologies implemented at Duratex, such as the use of drones in logging and silviculture for forecasting and preventing events, as well as the implementation of mobile platforms for Business Intelligence and Analytics tools, with the goal of reaching the state described as "Forestry 4.0".
"More and more, we have to do more with less. We've been evolving greatly to streamline and simplify our processes. Our workers are changing, they demand more technology and advancements, and that's what we try to accomplish," he affirmed.
The first main theme's fourth lecture, ""Operators for Machinery and Attachments: Training, Improvement and Evaluations", was given by Bruno Fernandes, Cenibra's Forest Harvest Coordinator. Fernandes spoke about Cenibra's current reality and how their investments in virtual simulators and operational field training have resulted in a successful case study for professional progress.
"What we expect of an operator to reach high operational performance is: safe behavior; good interpersonal relationship skills; process vision (they must be aware of the impact their work has); great care with the equipment; high productivity; and better use of the equipment's productive life," he concluded.
Marcelo Acioli, ADM's BR and PY Forest Manager, analysed the main factors leading to "Quality and Value in Biomass Production". According to the speaker, a company's objective must be: lower FOB cost for wood chips compared to the market costs; higher quality chips than those available in the market; ensure a steady daily supply throughout the year; reduce invested capital to the lowest possible level; and keep all forestry operations in line with the company's vision.
Logistics
Tomás Balistiero, Fibria's General Manager of Forest Operations in Mato Grosso do Sul, opened the Logistics discussions with trends for "Online Monitoring Systems for Machinery and Equipment". "Our main challenge is: How to manage operations and achieve extraordinary results?" he asked the participants.
By detailing the technologies used by Fibria (onboard computers, electronic mapping, GPS, drones, onboard cameras, fleet management systems etc.), Balistiero demonstrated a possible solution for his own question: when used correctly, digital monitoring systems can help greatly in decision making, as well as in increasing productivity and lowering operational costs. Moreover, there are still large developments to come in the fields of robotics, AI, Big Data and more.
Following the first lecture, Hermesson Nardino, operational manager at JSL, inspected "Technological Advancements in Timber Transportation". He presented the JSL project case study and talked about the use of technologies such as telemetry systems and the evolution of transportation attachments, with great gains to the sector. But he also pointed out some challenges, such as the need for balancing weight reduction and structural resistance and the challenge of training the workforce (operators, maintenance, loading and unloading crews).
Fabiano Stein, Veracel Wood Supply Manager, spoke about "Wood Harvesting in Small and Medium-sized Properties". Stein discussed the company's restructuring after acquiring lands with planted forests in steep areas. The challenges they've overcome include restructuring the company's machine fleet, retraining field teams and structural changes in management. According to Stein, the main focus of those changes was on operational safety and more precise planning for the operators' actions, with minimal production losses in mind.
"Wood Transportation Optimization and Planning Control" was the theme studied by Altair Negrello Jr. (Manager of Wood Production at Klabin). "Planning must look at the system as a whole: harvesting, the road network, transportation, commerce and silviculture. The greater the complexity of these operations, the greater the need for quick responses. The closer it is to reality, at the weekly and monthly levels, the more complex modeling becomes. There is no good planning when it cannot be carried out or is hard to put in practice," he argued.
The last theme was "Forest Road Optimization for Wood Harvesting Systems", explored by John Sessions, University Distinguished Professor of Forestry and Strachan Chair of Forest Operations Management at Oregon State University. In great technical detail, he brought as main talking points the optimization of roads in level terrain, optimization of roads in mountainous terrain, cutting strategies and road surface optimization. "Qualitative models may be of great use to your operations. If quantitative models don't correspond to current reality, it's important to investigate why," said Professor Sessions.
New Technologies
The use of cutting-edge technology for timber harvesting is always a hot point of debate between market professionals, and was chosen as one of the Seminar's main themes for this reason. The first speaker was Andrew McEwan, CMO International's Managing Director, who brought a global overview on "Global Trends for Wood Harvesting Machinery and Equipment".
His lecture explored some of the main factors that will influence the development of the forests of the future: the nature of forest producers; change in demand for new and different forestry products; factors linked to climate change (biomass energy, carbon credit marketplace); ecosystem services; and sustainability in cultivated forests. These factors will affect the very development of future forests and the technologies that must be developed to support them.
The international lectures continued with Oliver Thees, Leader of the research group "Forest production systems", Swiss Federal Institute of Research WSL. Commenting on "New Technologies for Wood Harvesting in Steep and Irregular Terrain", with emphasis on the recent technologies employed in Switzerland, Thees presented a case study on the Swiss forestry market, with future challenges in greater social acceptance of timber production, increased demand for environmental services, the search for greater cost reduction in forest management, new financing models, and adaptations of harvesting to climate change.
Highlighting an interesting trend, Rodrigo Zagonel, Fibria's Manager of forestry and nursery in ES / BA, investigated "Advancements in Mechanized Silviculture and its Integration with Timber Harvesting". "With these advancements, we will have high-performing management, telematics, AI, autonomous vehicles, Human Enhancement Technologies and automated harvesting operations," the speaker explained.
Next, Canadian speaker Doug Jones (Senior Vice President of Remsoft Inc) discussed "Optimizing the Forestry Value Chain: Planning the Harvesting and Delivery Process". In the lecture, Mr. Jones spoke about the benefits of optimizing the management of production chain variables with the aid of technology. Such benefits include smaller inventories and just-in-time delivery, lower harvest costs with optimized choice of harvest system; decreased transportation costs; increased value and profitability for external sales; reduced planning time.
Closing the New Technologies theme, Richard Mendes Dal Aqua, Suzano's Geoprocessing and Forest Register Manager, dealt with the "Use of Drones for Replacing Pre-Harvest Inventory Systems". According to Mendes, far from far-fetched future technologies, drones and UAVs are already a reality in forestry, for silviculture as well as harvesting operations – and they tend to keep growing in the marketplace.